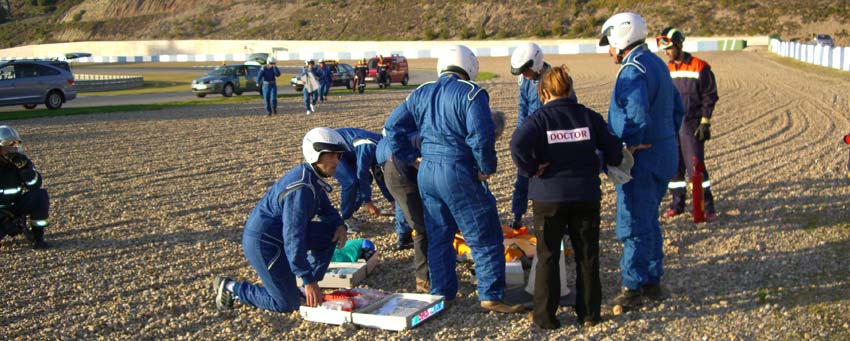 07 - June - 2019
The best technical and human team to take care of the health of pilots and Superbike Fans
Semesur Assistance has significant experience in providing medical services at major sporting events
The celebration of major sporting events necessarily involves the organisation of a health safety unit that ensures the physical integrity of athletes and fans who attend the event. Logically, the leading role in this type of events is for those who compete or, at most, for those who cheer from the stands; however, in a second or third place the figure of the health personnel will always appear. The spotlights are not aimed at them, but they are as essential as the sportsmen or the fans.
SEMESUR ASSISTANCE not only accumulates a great experience carrying out medical escorts or medical home visits. SEMESUR ASSISTANCE also offers this medical service for large events. Examples of successful cases are the units present at the Red Bull Spain Motorcycling Grand Prix or the World Motorcycle Superbike Championship events which, in 2019, is held from 7th to 9th of June at the Jerez racetrack.
In both cases, the number of working staff and the technical equipment deployed is practically identical. The chief doctor of the racetrack coordinates the medical actions from a perfectly equipped medical centre. In this case a first assistance to the patient will be performed in our Emergency room of the Jerez racetrack thanks to the specialised attention offered by medical professional specialists, like anaesthesiologist, intensivist, orthopaedist, surgeons, radiologist, nurses and assistants.
The more than four kilometres of the Jerez racetrack are among the best known at the international level. In order to deal quickly and efficiently with any medical emergency required along the track, 22 teams are distributed, including basic and advanced life support vehicles, doctors, nurses and emergency technicians. Its purpose would be to offer a first attention to the injured pilots in less than 20 seconds and make the transfer to the racetrack´s hospital.
On the other hand, SEMESUR ASSISTANCE builds up another specific and independent medical unit for the attention of the fans who come during the weekend to the sporting venue. The medical equipment available to the public is made up of medical vehicles, Advanced and Basic Life Support ambulances, in addition to several first-aid kits equipped with material for medical emergencies and advanced resuscitation.
Likewise, an action plan is drawn up together with the rest of the state´s security forces (Civil Guard, National and Local Police, Civil Protection, etc.) so that all actions are fully coordinated.
All this technical and human staff of SEMESUR ASSISTANCE guarantees the best medical assistance to pilots competing on the edge as well as to fans who will enjoy their passion for the motor vehicles during a hot weekend in which the temperature will be around the 30 degrees.