---
CATEGORIES
---
ARCHIVE
---
POST MORE VISITED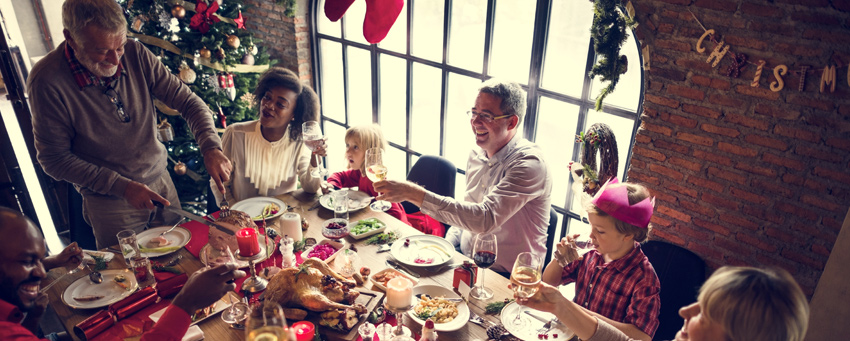 15 - January - 2020
Precautions to survive the excesses of Christmas
Making good food choices and keeping up your exercise can keep you from harming your health
December has become a month of excesses in which the arrival of Christmas pushes us to consume, buy gifts, meet family and friends and eat, eat, eat... Not only we fill our agenda with corporate dinners or lunch with friends, but we also have marked the days of Christmas Eve, Christmas, New Year's Eve or the Three Kings Day meal. How does all this affect our health? The answer is easy to imagine, because logically our body is affected by the exaggerated intake of sugars, fats and processed foods that we make during this period of time. That is why today we are going to review some precautions and recommendations that will help us take care of our body a little bit.
The number of calories that a person should consume throughout a day is very relative, as many factors affect it (weight, height, physical activity...). Taking as a reference the values of people who may need between 1500 and 2000 kcal, we can get an idea of the damage we do to our health if we have in mind that each of the Christmas feasts will inject us with about 1500 kcal in one go.
The negative effects of these excesses do not usually take long to appear and in most cases they take the form of heartburn, slow digestion, diarrhoea, vomiting, pancreatitis, biliary colic, metabolic imbalances or haemorrhoids. In addition, the medium term effect will be perceived in an increase in cholesterol, increase in blood pressure and the consequent increase in weight (some studies argue it can be between 3-5 kilograms).
For all this, from SEMESUR ASSISTANCE we leave you some tips to prevent these health problems:
It is not a good idea to stop having a meal to try to compensate the excesses of a big dinner, but it is very recommendable to change the type of food. In other words, fruit and vegetables should take centre stage in the day-to-day routine of your Christmas.
The consumption of alcohol must be very limited. Short-term damage to the digestive and nervous systems can be significant. In addition, you should keep up with your water habits at this time too. The recommended amount for a good hydration is two litres and this will facilitate the intestinal transit.
Herbs teas can be a good help preparing your body for these binge eating. Likewise, probiotic yogurt, vegetable broths or cream cheese can help to curb the consequences of these excesses.
During these dinners or special meals it would be important that you chew your food well, eat whole grain bread with fiber or sweets with nuts (at least 60%). These are small tips that can ease those heavy digestions.
In some situations, December's excesses are accompanied by a relaxation of physical exercise. In this case, the damage is twofold. It is recommended to keep the usual pace, and it would even be ideal to increase it.
The choice of food is also decisive. Using low-fat meat or fish, as well as homemade sauces instead of industrial products will decrease the caloric result of these intakes.
In SEMESUR ASSISTANCE we are aware of how difficult it can be to abstain from the spirit of Christmas. That is why we remind you that our services are always active and available 24 hours a day, 365 days a year. In case your health is damaged you can always go to our home health care service or telemedicine. In addition, there are many trips and journeys that also take place in December and you can always benefit from our extensive hospital network, our medical transport or air ambulance transfers from anywhere in the world.
All these services are always available to you through your medical insurance, your travel insurance company or directly by contacting us on the 24-hour helpline (+34) 91 10 10 900, completing the form so that we can call you or requesting a quote directly by phone.
As you can see, there are several ways to contact SEMESUR ASSISTANCE, but the goal is only one: your health is always ready!